Denzel Valentine had a tremendous senior season for the Michigan State Spartans.  Valentine virtually swept the "Player-of-the-Year" awards.  Following a Big Ten tournament championship and a surprising first round loss in the NCAA tourney, Valentine is set to take his career to the next level in Thursday's NBA draft.
Valentine played his high school hoops at Lansing Sexton before attending MSU.  Now it looks as though there is a possibility that his pro career will begin just miles away for the Detroit Pistons.  After viewing multiple mock drafts it seems clear that Valentine will be available when the Pistons select at #18.  Whether or no he'll be their selection remains unclear.  It wasn't long agao when the PIstons drafted another Spartan, and National Player of the Year in Mateen Cleaves at #14.  That's a move that didn't really work out.
I believe Valentine will be a better NBA player than Cleaves.  His size, shooting, and leadership lead me to believe he can carve out a niche in the league.  Will it be for Detroit?  Find out tonight.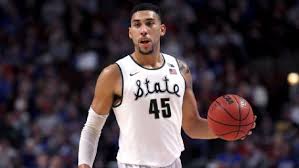 Good news for Sparty fans may also be that you have a second chance for the Pistons to draft someone from MSU.  Sam Smith from NBA.com has the Pistons taking Deyonta Davis with the 18th pick.