The finalists have been announced for the 2016-17 Scholar Athlete Awards from the MHSAA and Farm Bureau Insurance.  Jonathon Lutchka from Grass Lake is among the 12 finalists selected from the Class C boys group.  Lutchka played quarterback for the Warriors this season throwing for 1813 yards, 20 TDs, and just 8 INTs.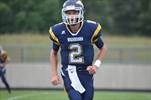 To be eligible for the award, students must have a cumulative grade point average of 3.50 (on a 4.0 scale) and previously have won a varsity letter in at least one sport in which the MHSAA sponsors a postseason tournament. Students also were asked to respond to a series of short essay questions, submit two letters of recommendation and a 500-word essay on the importance of sportsmanship in educational athletics.
6 scholarships will be awarded to students in class C.  3 for girls and 3 for boys.  32 total athletes will be honored throughout all classes.  The ceremony will be held at halftime of the Class C boys championship game on March 25th.