Tuesday night the Cascades Conference champion Hanover-Horton Comets traveled to Ypsilanti to match-up against the Southeastern Conference White Division champion Lincoln Railsplitters.
The Railsplitters are led by Freshman star Emoni Bates who is widely considered as the top basketball player in the country for the class of 2022.  Heading into the game they were 15-3 and coming off of a 73-65 win against Jackson High Monday night.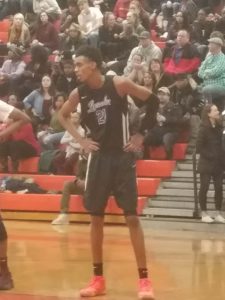 Emoni Bates
The Comets started the game on Tuesday night falling behind by 15 points.    Throughout the rest of the game Hanover-Horton battled back and won the game 78-73.  Congrats to the Comets for the win.  The Comets are scheduled to wrap up their regular season with a game on Thursday against East Jackson and Friday at Napoleon.  They've drawn a first-round bye in the District tournament and will play on Wednesday 2/27 at 6:00 PM against the winner of a round 1 game between Concord and Reading.