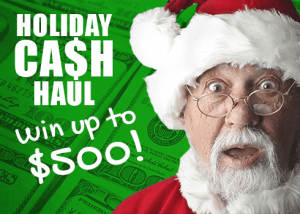 For 4 whole weeks leading up to Christmas… we're giving our listeners a chance to win fabulous prizes and a load of holiday cash!
Every weekday we will take a caller to go in the running for a prize. Just listen for the cue to call in and sign up for a chance to win this great Holiday Cash Haul!!
When to call: Between Noon-1pm Weekdays
During The Nooner with Greg O'Connor
Then, every Friday, we'll give away a $50 prize to one of our callers, thanks to our sponsors! Everyone who calls goes in the running for $500 CASH from ESPN 101.9 FM!
We'll give away the $500 grand prize on December 21 – stay tuned!
Thanks to our Sponsors:
KNIBLOE GIFT CORNER

BOOK COTTAGE

I'VE BEEN FRAMED CUSTOM FRAMING & FAIR TRADE GIFT SHOP

SHEAR PARADISE DAY SPA

CLOSET OVERLOAD

CLOTHING CAROUSEL

PRINTER SOURCE PLUS

BRAS THAT FIT

ANGELS AROUND YOU DAY SPA