The field is set for the College Football Playoff, The Lions win again, and the Western Michigan Broncos remain undefeated.  These and many more stories from a very big sports weekend…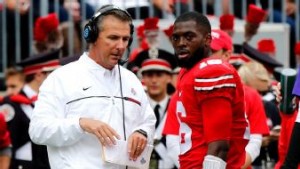 With much discussion and disagreement among fans, the college football playoff committee has decided which four teams will compete for a national championship this season.
http://www.espn.com/video/clip?id=18200434
The Detroit Lions move to 8-4 with an impressive victory over the New Orleans Saints.  The win is the 4th in a row for Detroit and puts them in control of the NFC North division.  The Lions next game is Sunday at home against the Bears.
Will the Lions make the playoffs?
Western Michigan made fans a little nervous Friday with a 29-23 win over the Ohio Bobcats in the MAC championship game.  Western is 13-0 and awaiting a match-up with Wisconsin on January 2nd in the Cotton Bowl.  The Badgers are 10-3 coming off a loss to Penn State in the Big 10 championship game.
Tiger Woods played well at times, but ultimately faded late in the Hero World Challenge.  Despite his finish, the return to competitive golf seemed to be viewed as a success for Tiger.
http://sports.yahoo.com/news/tiger-woods-return-a-success-even-if-victorys-a-long-way-off-202344176.html
The Spring Arbor Women's Soccer team came up short on their bid  for a 2nd consecutive NAIA National Championship.  The Cougars lost to Northwest Ohio 1-0 on Saturday in Alabama.  The loss in the title game was the Cougars only loss on the year.  They finish 22-1-1.