The Jackson Public High School Athletic Department announced the appointment of Mr. Milton Barnes as the new head varsity basketball coach.
Mr. Barnes is the Director of Student Success Initiatives at Albion College and the CEO/Founder of Play Right Basketball Academy.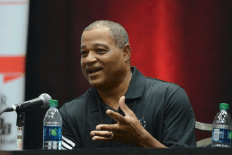 Mr. Barnes comes with over 35 years of coaching experience at the High School and Collegiate level.  In addition to his coaching experience Mr. Barnes spent 7 years as the NBA/Personnel Scout for the Minnesota Timberwolves.
Mr. Barnes is looking forward to opportunity to grow the Jackson High Vikings Boys Varsity Program.  "Mr. Barnes will be a transformative leader for our total basketball program " said Jack Fairly,  JHS/Parkside Athletic Director.