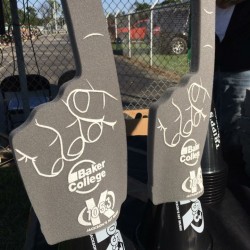 September 12th. 2016 – Local high school football. Why is it so special?
Locally, it's about school and community pride. It is something special to see friends playing alongside friends, many of whom have known each other since kindergarten, battling it out on the field under the lights. Some best friends may not even be playing on the same team, but you can be sure of one thing. The genuine love and passion players, families, coaches and fans exhibit for the sport and for each other is as pure as it comes.
From the fields and weight rooms as the coaches and players prepare for Friday nights, to the hundreds of trips to local grocery stores like Polly's, Kroger, and Meijer to get last minute tailgating supplies. The excitement is high for everyone involved.
Whether you're a band parent, cheer parent, player parent, alumni, or student fan – each week remains the best time you can have on your Friday nights.
Here is a great collection of photos from the 2016 local high school football season, so far.
If you would like to submit your photos, please send them to sferency@k1053.com and use the subject "Football Photos". They will be added to our photo galleries on ESPN Jackson, News/Talk 970am/101.5FM, 95.9 The Power Cow and K-105.3 Jackson's Hit Music websites.