DISTRICT 68 Round 1
Michigan Center (20-0, 14-0 Cascades Conference Champions) vs East Jackson (7-13, 5-9)  3/6 5:30 pm on 970 am and 101.5 fm
Michigan Center: The Michigan Center Boys Basketball Team finished the regular season at 20-0.  The next step in their season is a district tournament loaded with teams they've already beaten this season.  In the 1st round the Cardinals have drawn East Jackson, a team they've beaten twice this season by an average margin of 52.5 points.
Players to watch: One of the things that makes the Cardinals so good is their depth.  You start by mentioning Kylen Brown because he was an all-state honorable mention last season and is a fantastic player on both ends of the floor.  Austin McKenzie is also a tremendous back-court player for MC with great shooting range and penetration skills.  McKenzie and Kylen Brown often seem to be competing to see who can get more steals.  Connor Pelham has a non-stop motor and seemingly insatiable hunger for rebounds and loose balls.  Pelham is often the beneficiary of assists from McKenzie and Brown.  Pelham has signed to play at Spring Arbor University next year.
East Jackson:  The Trojans finished in the bottom half of their league and are facing an uphill battle against a team that beat them easily on two occasions this season.  East Jackson's highest point total this season is 70 in a win over Grass Lake and they'll need similar offensive firepower if they want to take down the Cardinals.
Players to watch: In that win over Grass Lake both Austin Jackson and Zach Seymour posted career high scoring numbers.  Jackson in particular showed an ability to get to the free throw line in that game which could be helpful if he could get some of the Cardinals players in foul trouble.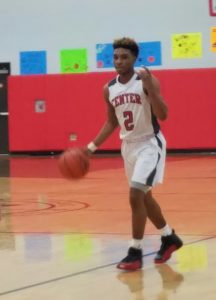 Napoleon (15-5, 11-3) vs Concord (15-5, 13-1 Big 8 Conference Champions) 3/6 7:00 pm on 970 am and 101.5 fm
Napoleon: In March of 2016 I bumped into Napoleon Assistant Coach Brent Tuthill and he told me to watch out for the Pirates next season.  Fast forward to March 2017 and Tuthill was proven right.  In his first season as Napoleon Head Coach, Jeremy File had the pirates in the thick of the Cascades Conference championship hunt and eventually a tie for 2nd place.  The match-up with Concord looks great on paper and is probably the most interesting game of round 1 in this district.
Players to watch: Jacob Chadwell exploded for 36 points in a mid-season win over Hanover-Horton and has proven over and over that he is the number 1 offensive option for the Pirates.  Ty Rose is  about 6'5″ and big and can cause match-up problems in the paint for a lot of area teams.
Concord: Concord got off to a slow start this season, losing 4 of their first 5 games.  The combination of a tough schedule and a feeling-out process with new head coach Matt Lehman.  After a loss to Dexter at the Parma Western Invitational the Yellowjackets rattled off 11 straight wins en-route to a Big 8 Conference championship.  Concord struggled early this season against Cascades Conference foes, but appear to have improved vastly over the course of the season.
Players to watch: Montez Brewer is an outstanding athlete with scoring and rebounding skills.  His leaping ability helps him play bigger than he really is.  Se'Taveus Johns is one of my favorite players to watch.  he has excellent ball-handling skills, a soft shooting touch, and a calm demeanor.  Former Jackson High player Zion Williams is a tenacious defender and has also shown he can score.
Hanover Horton (17-3, 11-3) @ Vandercook Lake (12-8, 7-7) 3/6 7:00 pm
Hanover-Horton: Ric Flair says "To be the man, you've got to beat the man" and in this district, Hanover-Horton is "the man".  Chad Mortimer's Comets have won something like 15 district titles in a row.  This season he brings in a young team that may be a year or so away from another deep playoff run for Comet Nation.  The Comets beat the Jayhawks both times they played this season once by 9 and once by 28.
Players to watch: This Comet team is deep and loaded with youngsters who have shown an ability to have big games, but the veteran players will have to play well for the Comets to move on.  Evan Harrold and Jared VanCampen are the two keys for HH.  Harrold is long and quick with great shooting range.  VanCampen is hard-nosed and gritty, but also plays the game with finesse.
Vandercook Lake: Vandercook Lake is another team under the direction of a new head coach this season.  Ryan Zyla's Jayhawks had an up and down campaign that saw them win 5 of their first 6 games.  They never won more than 3-in-a-row but never lost more than 2-in-a-row.  They did however lose twice to their round 1 opponent.
Players to watch: Zack Keyes is a threat to score big points every night.  He has the best shooting range on the team and a pretty quick gun.  Malik Jackson is long and physical and takes the ball hard to the hoop.  Chase Pierce has good shooting range and rebounds well.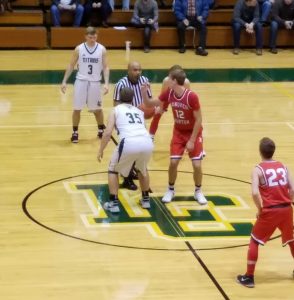 Lumen Christi (3-17, 3-11) 1st Round Bye
Lumen Christi: A tough season on the hardwood for the football state champs.  Their line-up is young and physical and the effort is unquestioned.  The results however have been bad.  Both Hanover-Horton and Vandercook Lake have notched wins over LC this season.
Players to watch: Bobby Willis played with the varsity in the 2015-16 season.  An injury during the state championship football run kept the sophomore guard on the bench all season long.  Thursday 3/2 Willis took the floor for the LC JV against Jackson and looked quite healthy.  I expect he'll get some floor time in the tournament for the Titans and may even be in the starting line-up.  Dayton Keller is LC's best scorer and big man and has missed several games with a lower leg injury.  I spoke with coach Pat neville on Thursday about whether or not Keller would be available for the tournament and with a sly smile he told me he wasn't willing to say "yes" or "no".  Lumen Christi is a better team with Keller on the floor.  I'm guessing he gives it a go on Wednesday 3/8 when Lumen suits up.