Head Coach Scott Ashe and the Napoleon Pirates football team used big plays and defense to avenge an early season loss and secure a district championship over the Grass Lake Warriors Friday night in Grass Lake.
From the games outset, the Napoleon Pirates pass rush made it very uncomfortable in the pocket for Grass Lake quarterback Jonathon Lutchka.  Adding to the degree of difficulty was the shutdown coverage by Pirates cornerback Ethan Weatherspoon on Jarrod Henry, a favorite target of Lutchka's.
The game's excitement ramped up early with a fumble recovered and returned for a near 40 yard TD by Napoleon's Chad Carpenter.  Grass Lake answered quickly, scoring on their next possession after a 65-yard kickoff return by  Jarrod Henry put the ball on the Napoleon 20 yard line.
Jake Chadwell and Greg Weatherspoon led the way for Napoleon who entered the halftime break with a 20-14 lead.
In the 3rd quarter Grass Lake seemed to find some offensive rhythm and scored early to make it 21-20.
Napoleon answered back on a long touchdown run by Greg Weatherspoon.  The two-point conversion made the score 28-21.
Grass Lake wouldn't score again and Napoleon would add two more TDs to reach the final score of 42-21.
Greg Weatherspoon proved to be the biggest difference maker for Napoleon and snagged Subway Player-of-the-Game honors from the K105.3 broadcast team.
Napoleon will hit the road next week to face the winner of the Lumen Christi/Schoolcraft game.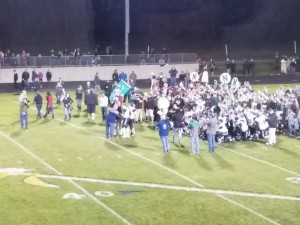 To hear the radio broadcast of the Napoleon/Grass Lake game click here.