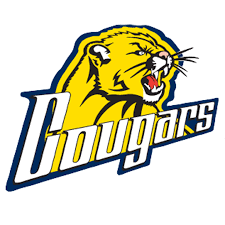 In the latest NAIA DII Men's Basketball Coaches' Top 25 Poll, the Spring Arbor University Cougars jumped up 14 spots to no. 9.
This is the first time since 1997-98 that the team has cracked the top 10, and is the highest overall ranking for the team since that same 97-98 team that opened the season at number 2.
The Cougars are 12-2 overall and in first place in the Crossroads League standings. Last week, SAU took down #15 Marian University (who was in the top 10 at the time), and defending NAIA National Champion #4 Indiana Wesleyan. Spring Arbor is now 4-1 against ranked teams this year.
The team is among the best in the nation on both sides of the floor; 15th in total scoring offense and 25th in scoring defense, allowing just 72.5 points per game. They are also 10th in field goal percentage (51%) and 12th from three point range (40%).
Spring Arbor is led by Paul Marandet, averaging 16 points per game and 6.9 assists, Brandon Durnell (16ppg, 6.8 rebounds per game), and two of the best three point shooters in the nation, Luke Barber and Tom Hamilton both averaging over 11 points per game and shooting over 49% from beyond the arch.
Two Jackson-area players are on the roster, Freshman Jonathan Robinson (Jackson High), and Sophomore Connor Cottingham (Parma Western). Robinson has appeared in 10 of the team's 14 games, averaging 1.8 minutes, 0.5 points, and 0.4 assists in his limited action. Cottingham meanwhile has played in 11 games, with a 0.2 ppg average and 0.3 rebounds per game.
Up next for the Cougars is a road trip to Kalamazoo College (2-7) on Saturday, University of Michigan-Dearborn (3-10) on December 19th, and Siena Heights (8-4) on December 29th.