The Spring Arbor women's soccer team defeated #13 Baker in their semi-final match on Friday to advance to their second consecutive national championship game.  The defending NAIA champions Cougars used goals from Bethany Balcer and Aubrey Schierbeek to get the 2-0 win.  SAU beat Baker in the second round of last years tournament 3-0.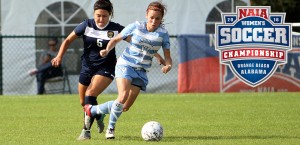 Phot credit: saucougars.com
The #1 seeded Cougars have not surrendered a goal throughout the tournament.  The championship game will be held on Saturday at 6:00 pm ET.  A live video stream of the game can be found at naia.org.