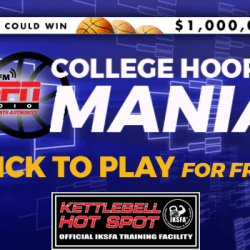 Jackson ESPN 101.9's annual College Hoops Mania contest is back, with a chance for you to win a million dollars – with the perfect 64-team bracket of course.
Sign up here and make your picks on Selection Sunday (March 17th)… or anytime up to 15 minutes before the first game of the NCAA tournament.
More ways to share in the fun are creating a group with your friends, family or coworkers… chatting with other players, or comparing your picks to our station VIPs. The grand prize for the best overall bracket is a 65″ Samsung Ultra 4K HD Smart TV plus a 1 year membership to Kettlebell Hot Spot Athletic Training Center.
P&T Fitness, Flexible Staffing and Bud Light are also providing chances for you to start fresh with a 16-team bracket and 4-team bracket as the tournament goes on. The player with the best overall 16-team bracket will win a $400 prize pack, and the best 4-team bracket wins a Bluetooth speaker tower and Bud Light Swag Package.
Find out all the details and sign up here to play! You'll even get a reminder email when it's time to make your picks so you don't miss the deadline.